Expectations low for China's hosting of G20
Comments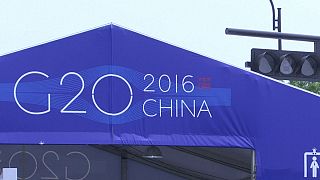 Everything is ready in Hangzou, 200 kilometres from Shanghai, to welcome the heads of state of the G20 nations, the richest on the planet.
They control 85% of global wealth, and this is also the moment when China confirms its place at this top table, with the world's number two economy.
"The G20 organised by China will be also a perfect occasion for China, as a rising empire, to demonstrate that it can lead and can play a leadership role in rearranging the world economy and global governance," says the Hong Kong Baptist University's Jean- Pierre Cabestan, an expert in Chinese politics.
This is the precise objective Beijing has set itself at this meeting. However the global economy is fragile, the timing appears off and thrown into further uncertainty with the Brexit decision, and it appears unlikely the G20 will decide anything concrete in such a climate of uncertainty no matter how much Chinese goodwill is offered.
"The target is to enhance international economic cooperation, sending a strong political signal featuring unity, cooperation, openness and inclusiveness," says China's Vice Foreign Minister Li Baodong.
China wants to be seen as a responsible power, and for the world to forget the spectacular fall in the Yuan and stockmarket this year, and the slowing of Chinese growth. These are big challenges for the Asian giant that are viewed with suspicion by its partners tired of what they brand as Chinese protectionism and suspected exchange rate manipulations.
Among the subjects for discussion that the Chinese would rather not broach but their partners are likely to want to talk about are the maritime disputes in the China sea. China's longstanding insistence on exercising control over waters ruled to be international has alarmed its neighbours for years, along with their allies the United States.
But there are other subjects jostling for face time at the talks table. The EU has put refugees on the agenda. Very probably the war in Syria will be discussed. It will in any case be hard to avoid these two issues as they have been so prominent in the news for many long months.
Hangzou will also be the last chance for presidents Obama and Putin to try and ease their differences. The two men have not met since November last year, when they were unable to agree on the fate of Bashar al-Assad. In two months time the USA will have a new president, and it will be too late.
Whatever the outcome this G20 meeting is very important for China. It matters for its international profile, and it is pulling out all the stops to impress its guests.