Turkey under growing pressure over its clashes with Syrian Kurds
Comments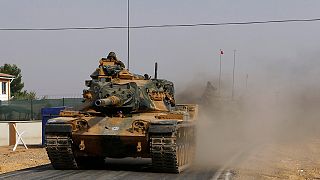 Russia has voiced concern over the actions of Turkey's armed forces and fighters led by Ankara in northern Syria.
Russian Foreign Minster Sergei Lavrov spoke to his Turkish counterpart Mevlut Cavusoglu by telephone on Wednesday.
Moscow has urged Turkey to avoid strikes on opposition and ethnic groups, including Syrian Kurds, who are fighting ISIL also known as Daesh.
That echoes the view of the United States, Turkey's NATO ally.
"We don't believe tactical operations between members of the SDF and Turkish forces, or forces supported by Turkey, to be productive in terms of the fight against Daesh," US State Department John Kirby said on Tuesday.
Ankara however is defiant, summoning the US ambassador over his country's stance and denying reports of a temporary truce with Syrian Kurdish forces that Ankara sees as terrorists.
Turkey summons US envoy over remarks on Syria operation https://t.co/kQ3wWL0JDHpic.twitter.com/c0IDuB65ig

— Hürriyet Daily News (@HDNER) 31 août 2016
A spokesman for President Recep Tayyip Erdogan insisted that Turkey would continue striking Kurdish militia until they withdraw from the region where Turkish forces are fighting.
Turkey fears that, if Kurdish fighters control the entire area along its Syrian border, it could embolden Kurdish militants at home who have been fighting for decades for autonomy on Turkish soil.
Operation "Euphrates Shield", in which Turkish troops and tanks entered Syria in support of rebels for the first time, began on Aug. 24 with the swift capture of Jarablus, a town a few km inside Syria that was held by ISIL.
Turkey said on Wednesday that it wanted to clear ISIL from a 90 km stretch of territory on the Syrian side of its border, a week after launching the incursion.
But it also wants to prevent Kurdish militias from seizing territory in their wake.