Storms sweep Pacific bringing strong winds and rain
Comments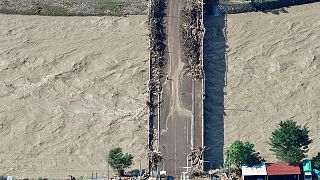 Hawaii is bracing itself for the arrival of Hurricane Madeline which is sweeping across the Pacific towards the island chain.
The sheer size of the weather system was captured on cameras from the International Space Station.
As major Hurricane Madeline nears the Hawaiian Islands, our satellites monitor from above: https://t.co/Gi6EFvynMwpic.twitter.com/Uzx4UdwKz5

—

NASA

(@NASA) August 30, 2016
With winds expected up to 193 kph the authorities are urging residents to prepare by stocking up on food and emergency supplies.
Forecasters are watching the tropical storm as it could potentially coincide with a visit by President Barack Obama.
He is scheduled to arrive ahead of the International Union for Conservation of Nature (IUCN) World Conservation Congress, which starts next week.
And in Japan, typhoon Lionrock made landfall on the country's northeast coast on Tuesday. It brought with it heavy rains along with wind speeds of more than 120 kph.
NW PACIFICOCEANFull UpdateNASA's Terra Satellite Spies Tropical Storm Weakening Lionrock Over Hokkaido… https://t.co/8zyqBAbCdQ

—

NASAH

urricane (@NASAHurricane) August 30, 2016
Police have reported at least ten deaths, nine of them in a flooded care home for the elderly.
The region, Sendai, is the same as was devastated by an earthquake and tsunami five years ago.
The category one typhoon dumped about 35 cm of rain, more than the average rainfall for the whole of August.