North Korea minister executed 'for showing lack of respect'
Comments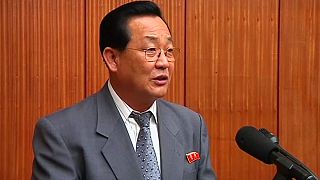 One of North Korea's top ministers has been executed after showing a lack of respect at a meeting chaired by leader Kim Jong Un, the South said on Wednesday.
Vice Premier for Education Kim Yong Jin was sent to the firing squad in July, apparently after slouching at a public event.
Two other senior officials were sent for 'revolutionary re-education" for a month, Seoul says. That usually means banishment to a rural farm.
"Education Vice Premier Kim Yong Jin was executed," South Korea's Unification Ministry spokesman Jeong Joon-hee told reporters.
"Kim Yong Chol, head of the Workers' Party United Front Department, was ordered to be 'revolutionised'. And we have figured out that Choi Hwi, director of the first division of the Workers' Party Propaganda and Agitation Department, has also been ordered to be 'revolutionised'."
Kim Yong Jin was executed for not keeping his posture upright at a public event, a South Korean government official told Reuters. He was promoted to vice premier in 2012 after serving as education minister, according to a South Korean government database on key officials of the North.
South Korea says North Korea has executed a top education official and banished two others. https://t.co/F5KRl4VQek

— The Associated Press (@AP) 31 août 2016
Kim Yong Chol was punished for his overbearing demeanor, the official added, but gave no details. The army general headed the North Korean intelligence agency before taking his current position this year.
Pyongyang has not confirmed claims of a new crackdown. It rarely announces purges or executions and it is difficult to independently verify news about top officials in the North or the inner circle around the leader.
The South's comments follow a news report on Tuesday that the North had executed two high-ranking officials for disobeying leader Kim Jong Un.
Some previous reports of executions and purges in the reclusive state have proven inaccurate.
However North Korean state media confirmed the 2013 execution of Kim's uncle, Jang Song Thaek, widely considered the country's second most powerful man, for factionalism and crimes damaging to the economy.
A former defence minister, Hyun Yong Chol, is also believed to have been executed last year for treason, according to the South's spy agency.