Aung San Suu Kyi opens peace talks to end decades of fighting in Myanmar
Comments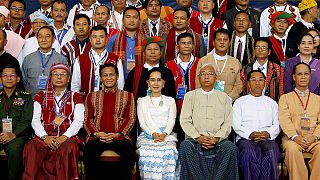 Hundreds of representatives of ethnic groups have gathered in the capital of Myanmar, as Aung Sun Suu Kyi opened peace talks to end decades of fighting between the military and rebels.
She has made finding a lasting peace a priority for her government, after her party swept to power last November ending more than half a century of military-backed rule.
"This is a unique opportunity for us to accomplish a great task that will stand as a landmark throughout our history. Let us grasp this magnificent opportunity, with wisdom, courage, and perseverance, and create a future infused with light," Su Kyi said in an opening statement.
Fighting between the military, which seized power in 1962, and armed ethnic groups has been raging almost on-and-off since the end of the Second World War and has claimed thousands of lives.
During the opening statements, Army Chief Min Aung Hlaing said:
"It's the Tatmadaw [military] members and our brethren members of ethnic armed groups, who have been directly suffering from all bad impacts of wars resulting from the lack of peace in the country, sacrificing their limbs and lives. It's necessary to terminate these things completely during our time."
A recent flare up in violence in the northern state of Kachin, and sporadic fighting in the northeastern Shan state has cast a shadow over the talks.
The first round is expected to last five days, and experts say no breakthrough can be expected in the coming months.
Delegates are expected to meet every six weeks to discuss issues including security, political representation, language and culture as well as the control of the country's rich mineral resources.