ISIL spokesperson killed in Syria, group announces
Comments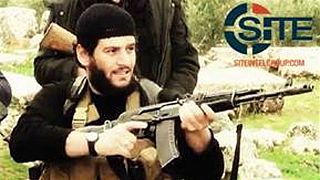 One of ISIL's most prominent leaders has been killed in Syria, according to the group's Aamaq news agency.
Abu Muhammed al-Adnani was ''martyred while surveying the operations to repel the military campaigns in Aleppo, it said.
No further details on when or how he died were given, but a US defence official confirmed a targeted air strike against a senior leader from so-called Islamic State near had been carried out near the city.
In 2014, the Washington put a bounty of $5 million on his head.
One of ISIL's founding members and official spokesman, al-Adnani was best known for his calls for lone-wolf style attacks on the West. He is also believed to have masterminded several strikes in Europe.
The death is widely being seen as a major blow for ISIL which has been put under increasing pressure in both Syria and Iraq in recent months.