Turkey and its allies push deeper into Syria
Comments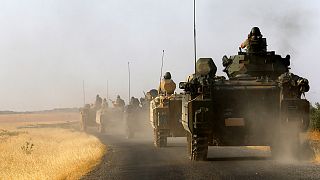 Turkey's army and its allies have pushed deeper into Syria on the fifth day of the campaign against ISIL and Kurdish-aligned forces.
A monitoring group says at least 35 villagers were killed – Turkey claims the victims were Kurdish militants.
Ankara which is also battling a Kurdish insurgency back home, says its goal in Syria is as much about ensuring Kurdish forces do not expand the territory they already control along Turkey's border, as it is about driving out ISIL.
Speaking in Gaziantep, scene of a deadly wedding bombing which killed 54 people, Turkey's president, Recep Tayyip Erdogan addressed a rally in defiant mood:
"We will give every support to efforts to cleanse Daesh (ISIL) from Syria and Iraq. That's why we are present in Jarablus. We have the same resolve (to wipe out) the separatist YPG's Syria wing. Our struggle will continue until we root out this terrorist organisation."
Aid workers have been handing out food in Jarablus, the Syrian border town recently taken by Turkish-backed rebels.
The joint offensive is now said to be heading south of the town towards Manbij which was recently retaken from ISIL by the YPG.
The YPG is part of a coalition which includes the Syrian Democratic Forces (SDF). The SDF has support from the United States – which sees the group as an effective Syrian ally against ISIL. This is putting Turkey at odds with a fellow NATO member, further complicating Syria's five-year-old civil war.
Turkey's airstrikes kill 35 Kurdish civilians. Barbarians risk an all-out war with the Kurds. https://t.co/ylXA6Fu5Ty via telegraphnews</a></p>&mdash; (((Tarek Fatah))) (TarekFatah) 28 August 2016