Philippines police turn to puppets in the war on drugs
Comments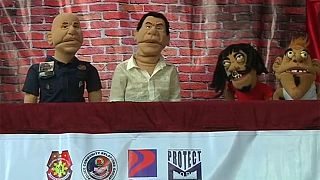 Police in the Philippines have turned to puppets in a bid to warn school children about the dangers of drug use. Aimed at winning over hearts and minds before it is too late, the puppets include President Rodrigo Duterte himself and his police chief, Ronald Dela Rosa. During the show they tell the children not to take illegal drugs or face the deadly consequences.
The authorities insist it is the other side of the country's war on drugs and say it shows they don't just have one approach.
"This is part of our programme to convince and maintain the safety of our people, especially those who have not been subjected to vices by reminding them of the effects of illegal drugs," said Philippine National Police Community Relations Group Chief, Remigio Sedanto.
Since taking charge two months ago, President Rodrigo Duterte has waged a brutal campaign against drug criminals and users.
In response, one student theatre group in Manila, strongly opposed to the new president's methods, has put on a play to show the impact of the hardline anti-drug policy.
"It showed us that the victims of extrajudicial killings, are not just names or faceless figures, they are real people, they have names and they are victims as well," said one student.
Police chiefs in Philippines have admitted killing hundreds of drug suspects since July. Earlier this month, President Duterte, who has described drug-users as not human, threatened to leave the UN after it raised concerns over human rights in the country, heavily criticising his policy.