Libyan forces 'totally liberate' district of Sirte from ISIL
Comments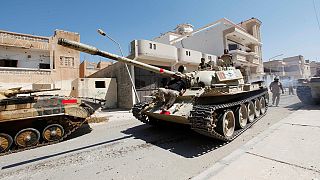 Forces loyal to the UN-backed government in Libya say they have re-taken a residential neighbourhood from ISIL in Sirte.
It follows fierce fighting in the coastal city as militias aligned to the Tripoli-based Government of National Accord finally attempt to oust the jihadists out of their stronghold.
Late on Monday, forces loyal to the GNA announced they had ''totally liberated'' one of two districts where ISIL were holed up.
But the significant gains have not been without cost. Faced with suicide bombers, car bombs, snipers and mines, the pro-government forces reportedly suffered heavy casualties over the weekend during their advance.
Monday saw fewer losses but dozens of men have been killed and more than 200 wounded according to the latest estimate.
ISIL seized Sirte in February last year turning it into its regional bastion. Since then almost all the city's estimated 80,000 residents have fled the city.