Turkish southeast airport targeted in rocket attack
Comments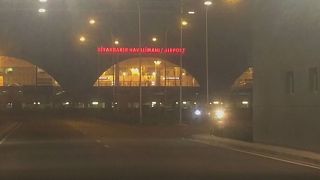 Suspected Kurdish militants have fired rockets at an airport in southeastern Turkish city of Diyarbakir.
Four rockets were fired at a police checkpoint outside the VIP lounge, sending passengers and staff running for shelter, though no casualties have been reported.
Diyarbakir is the main city in the largely Kurdish southeast of Turkey, where Kurdish militants have been waging a 30-year-long insurgency. Violence has been on the rise since a ceasefire collapsed just over a year ago.
The attack comes just days after Turkey launched a military offensive in Syria to drive ISIL out and preventing Kurdish fighters from gaining territory.