Roma forced to flee violent mob in Ukraine village
Comments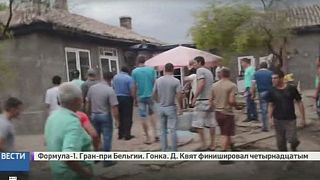 In Ukraine, around a dozen Roma families have reportedly been forced to flee for their lives after locals in a small village in the region of Odessa turned violent.
Amateur footage taken at the scene appeared to show an angry mob destroying dwellings occupied by the Roma.
The unrest apparently erupted following the rape and murder of 8-year-old local girl.
''They've been here three years, three years. And this is what happens. The Roma don't give a dam about the local population, who've been living here for 200 years. Our children are bullied at school, people are being hassled in the street, and there are criminal rackets, stealing from properties,'' one villager said.
Police say a 22-year-old Roma man from the village has been arrested in connection with the young girl's killing.
The authorities say they have struck a deal with the Roma families to leave the village and resettle elsewhere in the area.