Tunisia's parliament approves new national unity government
Comments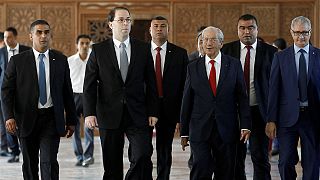 Tunisia's new national unity government has won a confidence vote as the country's prime minister warned parliament of an austerity risk.
Youssef Chahed said thousands of public sector jobs would be cut and new taxes introduced if Tunisia did not overcome its economic difficulties.
"Our situation in 2017, if we don't change anything in our behaviour, it will be so much harder, it will be worse, we will be forced to adopt a policy of austerity. What does this mean? It means that the state would be forced to cut spending on health, healthcare, it would be forced to fire thousands of public sector employees," Chahed told lawmakers ahead of Friday's (August 26) vote.
Some deep policy analysis on Tunisia's new unity government. https://t.co/xfpEkdVZIi

— reported.ly (@reportedly) August 26, 2016
Tunisia's transition since a 2011 uprising overthrew autocrat Zine El-Abidine Ben Ali has been hailed as a model for the Arab world with free elections and a new constitution.
But successive governments in the North African state have struggled with growing Islamist militant violence – tourism plummeted after two major terror attacks against foreigners last year.