South Africa court rejects appeal to increase Pistorius sentence
Comments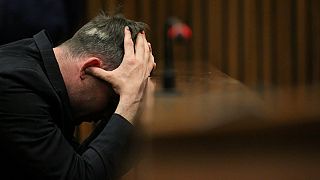 A South African court has dismissed an appeal to increase Oscar Pistorius' six-year murder sentence by state prosecutors.
The Olympic athlete was not in court to hear the judge rule that the request had no reasonable prospects of success on appeal.
Women's rights groups have argued that Pistorius has received preferential treatment compared to non-whites and those without his wealth or celebrity status in a country beset by high levels of violent crime.
The athlete – a multiple Paralympian gold medallist – was sentenced to six years' jail in July for murdering his girlfriend Reeva Steenkamp in 2013.
The prosecution said the decision was too lenient; the defence argued the state was prejudiced.
An original conviction for manslaughter had been increased to murder earlier.
The prosecutor has said Pistorius had not shown any remorse and had yet to explain why he fired the fatal shots through a bathroom door.
He argued he believed an intruder was hiding behind it.