No 'Arab Spring' in Zimbabwe, Mugabe warns protesters
Comments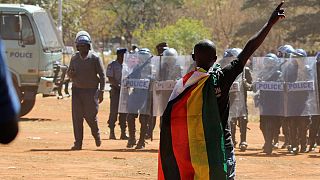 President Robert Mugabe has warned there will be no 'Arab Spring' in Zimbabwe after protests against his decades-long rule descended into violence on Friday.
A so-called 'mega demonstration' was held in the capital Harare amid opponents' outrage that the 92-year-old is standing for re-election.
"You don't know when it will evolve into what," said opposition leader Morgan Tsvangirai.
"But what I can assure you is that the people's anger is very deep. People's desperation is very deep. And I think in my view it must not relent."
Protesters want international observers to monitor the ballot in 2018, fearing it will be rigged.
Despite tear gas and water cannon that forced opposition leaders and demonstrators to flee, activists have warned that this was just the first in a series of protests.