Amatrice - euronews reports from quake-struck town
Comments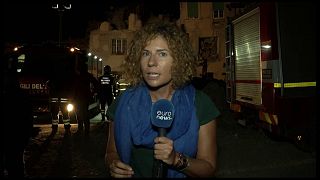 Much of the once picturesque town of Amatrice, in the Italian province of Rieti, was flattened by the devastating earthquake which has struck central Italy. Many of those killed or missing will have been holiday makers. Our special correspondent, Raquel Garcia saw first hand the search and rescue operation which has been under way since the early hours of Wednesday morning.
"It's a race against the clock"

euronews special correspondent
"After shocks which are still being felt are only one of the many difficulties search and rescuers are having to deal with," she said.
"The lists of the town's inhabitants are unreliable… It's not easy to have an accurate idea of the exact number of people who were here when the earthquake struck. It means that nobody can reliably say who is missing or say how many victims there are. It could be far higher than the hundred or so bodies already found.
Hopefully some people had already left after their holidays, back to where they normally live during the rest of the year.
With the numbers unclear it is also difficult for aid workers to work out how many tents to put up for the hundreds of homeless families who will spend their first night out of their houses.
What is certain is that one of the biggest challenges is the fear of more tremors as people search for anyone still alive under the rubble…. It really is a race against the clock," – Raquel Garcia.
Centre of Amatrice where much of it was destroyed. A large number killed here. pic.twitter.com/D6K0eQ14Tm

— Paul Workman (@PaulCTV) August 24, 2016