Colombia government urges referendum backing for FARC peace deal
Comments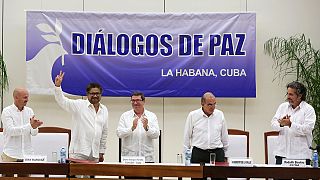 The Colombian government has defended the peace deal agreed on Wednesday under which leftist FARC rebels will give up their armed struggle and join the political process.
Either we continue with a situation of conflict, or we open up hopes for a strong peace

Chief negotiator, Colombian government
Critics, led by former President Alvaro Uribe, say the agreement to end half a century of conflict gives rebels amnesty for too many crimes and calls unfairly for subsidising fighters as they readjust to civilian life.
A ceremony in Havana saw the two sides shake on the deal applauded by Cuba's foreign minister whose government with Norway have facilitated the talks.
At a news conference in the Cuban capital, the Colombian delegation urged people to vote in October's referendum on the deal.
"There are two (possible) paths (to take): either we continue with a situation of conflict, fading after now nearly seven million victims, or we open up hopes for a strong peace. In essence, that's what Colombians must do, counterbalance those things that they probably don't like from what we did yesterday (in agreeing the deal), against future prospects for ending a conflict and open opportunities for growth, a future, for an improvement in political life," said the Colombian government's chief negotiator, Humberto de la Calle.
Earlier, Colombia's president also backed the deal which was the result of four years of negotiations.
"To have a long lasting peace we have to guarantee that those raised as armed insurgents can reintegrate into the social and legal life of our country. Former FARC members, now disarmed, will be able to have access to the political life of our country, in a democratic way. They will have – as any other political organisation – to convince the citizens with proposals and arguments to be elected," President Juan Manuel Santos said.
FARC's cocaine-funded war has killed at least 220,000 people and displaced millions because of the violence.
It also took resource-rich Colombia to the brink of collapse.
Before becoming law, the deal needs to be backed by the Colombian people in the referendum, scheduled for October 2.
Colombia's long road to peace https://t.co/qCHmlT7PM5pic.twitter.com/cgK3oKWcmp

— euronews (@euronews) August 25, 2016