Clinton and Trump clash over battle for black and Hispanic votes
Comments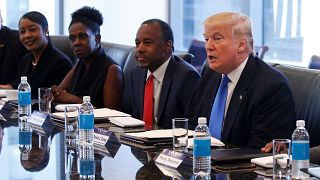 Hillary Clinton and Donald Trump have clashed as they battle for the support of minority voters – each accusing the other of posing a threat to the interests of blacks and Latinos.
In a speech at Reno in Nevada, the US Democratic presidential candidate blasted her conservative rival as a divisive figure stoking racist groups.
"Look at our fabulous Olympic team, representing the United States of America. Ibtihaj Muhammad, African-American Muslim from New Jersey, won the bronze medal in fencing, with grace and skill. Would she even a place in Donald Trump's America?" Clinton said.
Trump asked what the African American community has to lose by voting for him. MarlonDMarshall</a>&#39;s response: <a href="https://t.co/ZJtX7d49bM">https://t.co/ZJtX7d49bM</a></p>&mdash; Hillary Clinton (HillaryClinton) August 25, 2016
Donald Trump responded in a tweet accusing Clinton of "race-baiting". He has polled poorly with minorities and has been heavily criticised for proposals including suspending Muslim immigration to protect national security.
Meeting black and Hispanic Republicans at his New York headquarters, Trump said he planned to look into discriminatory lending practices by banks to African-Americans.
"The African-American population has absolutely been treated terribly by the banks. If you are African-American, it is very very hard to get a loan. And I want to look into it because I have heard it from more and more people."
So many in the African-American community are doing so badly, poverty and crime way up, employment and jobs way down: I will fix it, promise

— Donald J. Trump (@realDonaldTrump) August 25, 2016
Outside Trump Tower, people from New York's Harlem community made clear their opposition to the Republican contender.
The presidential hopeful, who has hinted he may soften his stance on illegal immigration – promised to unveil his new policy in the next week or two.
In recent days he has indicated he is backing away from demanding the mass deportations of the 11 million immigrants living in the US illegally. He has reportedly said he would be willing to work with immigrants who have abided by US laws while living in the country.