Virgin Trains disputes Jeremy Corbyn's train was 'rammed'
Comments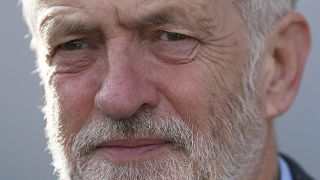 Britain's Labour Party leader, who last week said he was forced to sit on the floor of a crowded train, is having his version of events questioned by the train company.
Virgin Trains has released CCTV images apparently showing Corbyn walking past empty seats on his way to the end of the train.
A Virgin statement said that his team sat on the ground and began filming.
On his film, whilst sitting on the floor, Mr Corbyn said: "This is a problem that many passengers face every day on the trains, commuters and long distance travellers. Today this train is completely ram-packed. The staff on the train are absolutely brilliant, working really hard to help everybody. The reality is there's not enough trains, we need more of them."
The statement added that the company has to take issue with the idea that Mr Corbyn wasn't able to be seated on the service, as this clearly wasn't the case.
This is disputed, however, by people on the train who claimed that the seats which appeared empty on the CCTV images were taken up by bags and small children.
Mr Corbyn was immediately the subject of many jibes on social media under the hashtag #traingate.
Here is real video footage of Jeremy walking through the train.. Where you see red stickers they are reserved seats. pic.twitter.com/paUxGr7Tvd

— Éoin (@LabourEoin) August 23, 2016
This is an actual photo of the last Virgin train I took -to Doncaster or somewhere #traingate#istandwithjeremypic.twitter.com/Qws3JJwEJ1

— Rupert Myers (@RupertMyers) August 23, 2016