Turks flee border town after ISIL attack from Syria
Comments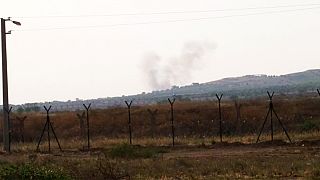 Turkey has told people living in a flashpoint border area with Syria to flee after it was hit by mortars fired by ISIL militants.
The evacuation is underway in parts of Karkamis which was hit by several mortar shells on Tuesday.
Authorities are giving advice by loudspeaker and, as the Turkish military returned fire into northern Syria, many locals are moving out.
Police urge locals to evacuate Turkish border town Karkamış after mortar shells https://t.co/2LdvpjgdSvpic.twitter.com/tl4NMepjuT

— Hürriyet Daily News (@HDNER) 23 août 2016
The situation could deteriorate with a major battle looming just over the border.
Turkish-backed Syrian rebels are preparing an offensive to capture the Syrian town of Jarablus from the so-called Islamic State group.
Turkish Foreign Minister Mevlut Cavusoglu says Ankara will give full support to the operation which the rebels say they are preparing from Turkish soil.
"Above all, this is important for our security," he said on Tuesday.
"It is important that the terror organisations are cleansed from the region and for the region's stability."
Because for Turkey, ISIL is not the only threat across its frontier.
It is eager to prevent the Kurdish YPG militia, which already controls swathes of northern Syria, from capturing Jarablus, a strategic border town.
The YPG's growing sway has alarmed Turkey, which is fighting an insurgency among its own Kurdish minority.