Double bomb blasts in Thailand kill one person and injure 30 others
Comments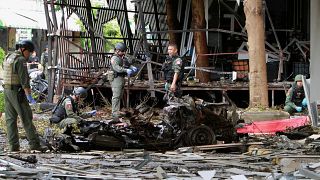 Two bombs have exploded in Thailand killing one person and wounding 30 others.
They happened in the southern coastal town of Pattani.
❗THAÏLANDE : Attentat à la bombe dans un hôtel à Pattani, au moins 1 mort et 29 blessés. |DailyMirror</a> <a href="https://t.co/L5pA3jl0xH">pic.twitter.com/L5pA3jl0xH</a></p>&mdash; Infos Françaises (InfosFrancaises) August 23, 2016
The explosions come less than two weeks after a series of blasts in popular tourist resorts which killed four people and wounded dozens more.
No group has claimed responsibility for the wave of bombings, but some security experts noted at the time that southern insurgent groups have a track record of carrying out coordinated bombing attacks.
Since 2004, a low-intensity but brutal war between government troops and insurgents has killed more than 6,500 people in the southern provinces of Yala, Pattani and Narathiwat that border Malaysia.
The three provinces soundly rejected a referendum earlier this month on the new military-backed constitution, which passed convincingly in most of the rest of the country.