Rio Paralympic Games: charities hit out at funding shortfall
Comments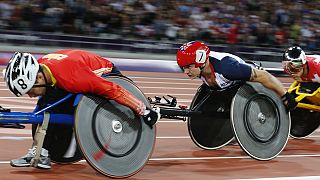 Charities have hit out at the precarious state of the 2016 Paralympic Games, which is likely to take place under the shadow of a huge funding crisis.
It comes just days after the end of the Rio Olympics, with lavish opening and closing ceremonies and cost an estimated 4.6 billion euros.
The Paralympics are due to kick off in Rio from September 7 and run to September 18. More than 4,000 athletes are expected to compete in 23 different events.
But with only days to go before the opening ceremony, the late payment of travel grants from the Rio Organising Committee mean athletes from many countries may not make it to the Games.
Sir Philip Craven, chairman of the International Paralympic Committee (IPC), emphasised the gravity of the situation when he said: "Never before in the 56-year history of the Paralympic Games have we faced circumstances like this."
He added that payment should have been sent in July and he hoped that 60 percent of these payments would be sent "soon". The IPC believes the delays will mean that up to 10 countries may not make it to Rio.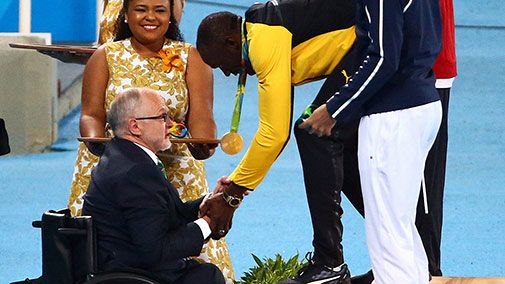 Sir Philip Craven , chairman of the International Paralympic Committee, presents Usain Bolt with a gold medal for the 200m
But Leonard Cheshire Disability, a charity that runs access to work and education programmes in several of the countries likely to be excluded, believes this estimate is conservative and five times as many may not make it.
Tiziana Oliva, the charity's international director, said: "It would be a hammer blow to the Paralympic movement if, as has been reported, as many as 50 of the world's poorest countries are prevented from participating at the Rio Paralympic Games.
'It is in these countries where there remains most to do in addressing stigma and enabling disabled children to go to school and disabled adults to get work."
Transport from the athletes' village to venues is being cut. And to save money, the Deodoro arena, which hosted hockey, equestrian and shooting, will be closed.
Sir Philip said the cash crisis was in part due to the fact that Brazil's economy was not in a robust state at present, compared with how it was when it won the bid in 2009. In additon only 12 percent of tickets have been sold.
The news follows allegations from Australian radio station 3AW that the Rio organisers diverted money that was intended for the Paralympics.
It claims the money was spent on renovations to the Olympic village, among other things.
I'll say again, utter disgrace that drastic cuts have severely compromised Paralympics. Treated for so long as 2nd class athletes! Tanni_GT</a></p>&mdash; Ian Stafford (IanStaffs) 20 August 2016
Further attempts to get funding from the government hit a stumbling block when Brazil's federal court initially blocked a grant.
This was eventually resolved and the Mayor of Rio, Eduardo Paes, secured additional funding from state-run firms.
The disability charity Scope said while the crisis facing the Games was disappointing, there was still a chance for it to shine.
"It's incredibly disappointing to hear that disabled athletes are being short-changed and face competing in empty stadiums," said Richard Lane, head of campaigns for the organisation.
"With more than two weeks to go, we hope the organisers can address these issues and ensure the Games are a success.
"The Rio Paralympics can still be remembered for the achievements of disabled athletes on the track, not for budget cuts and low ticket sales."