Cuba and Iran exchange pleasantries in first stop of Zarif's business-boosting tour
Comments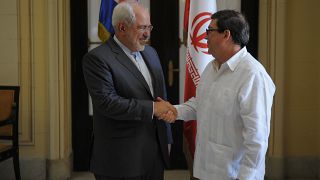 The Iranian foreign minister and an entourage of around a hundred political and economic delegates have left Cuba for stage two of a whistlestop tour of Latin America.
Mohammad Javad Zarif is spending a day in Nicaragua before moving on to Ecuador, Chile, Bolivia and Venezuela in an effort to improve business ties in the region.
On Sunday, I'll start a 6-nation tour of Latin America w/ a large delegation of business executives to strengthen political & economic ties.

— Javad Zarif (@JZarif) August 18, 2016
During the trip his Cuban counterpart Bruno Rodriguez congratulated Iran on the "success of its foreign policy."
Zarif, meanwhile, labelled the first leg "a new chapter in relations with Cuba," saying the two nations are linked by their resistance of what he called "US atrocities." No mention was made of Havana's recently renewed diplomatic relations with Washington.