Afghan teenager travels 400km strapped to bottom of truck
Comments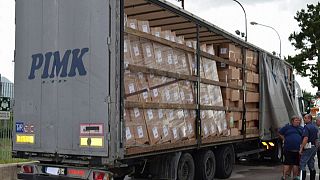 An Afghan teenager, reportedly 16-years-old, has been found strapped to the bottom of a truck, after apparently travelling for around 400 kilometres.
He was found underneath the Bulgarian lorry in Italy by traffic police on a road south of Rome.
The teenager was taken to hospital for checks after being rescued.
The truck was bound for Germany, the destination of choice for many migrants. The country took in more than a million people last year amid Europe's crisis.
Chancellor Angela Merkel has since faced criticism over her open door policy.