Rio says goodbye to the Greatest Party on Earth
Comments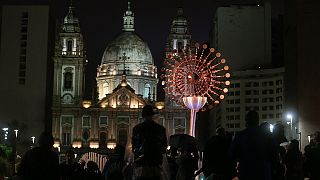 What the wind and rain isn't bringing down is starting to come down as workers begin to dismantle the Olympics infrastructure not needed for the upcoming parolympics.
A mixture of blues that it's all over and joy at the event pervades Rio.
"It was amazing for Rio de Janeiro. I did not expect the population to embrace the Olympics that way. When you see the Olympics in other countries it is exciting. Inside our own house is even more exciting," said local Jean Barreto.
Of course the party will resume in September for the parolympics, but they are being scaled back because of poor ticket sales and a lack of money.
Rio has not been problem-free, but potential disasters like social unrest or disease failed to materialise, and snags were sorted out. Locals and tourists seem happy.
"Obviously being the first olympic games you know there always is going to be things that don't work out. It is the same with any huge event, same with London, they also had problems as well. With a mass of people coming into a city, yes with the venues being quite far apart was quite difficult, but over time it has got better and better," said Martin from London.
"I don't know what they are going to do with all the assembled structures. They should reuse them as sport points to encourage local athletes," said Brenno, from Sao Paulo.
"The question that remains at the end of the games is 'What is the legacy of the Olympics for Brazil? Will the huge investment make any improvements in the general conditions of the population? It takes commitment from the authorities not to turn the Olympics complex into a huge white elephant," reports euronews' Rafael Batista, from Rio de Janeiro.