North Korea threatens nuclear strike on joint US-South Korean military exercises
Comments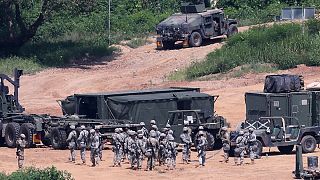 North Korea has slammed the joint South Korean-American annual military exercises as provocative, and has threatened a pre-emptive nuclear strike.
Twenty-five thousand US troops are taking part in the exercises, due to end on September 2, exercises the North says are preparations for an invasion.
North and South Korea are still technically at war as an armistice ended their 1950-53 conflict, and have been at daggers drawn ever since.
North Korea made its position known in a communique published to co-incide with the start
of the exercises, and on Monday it also demanded South Korea return 12 North Korean waitresses who defected to the South, fleeing their North Korean restaurant in China earlier this year. Pyongyang alleges the women were kidnapped, which Seoul denies.
On Monday South Korea's president said last week's defection to the South of North Korea's deputy ambassador in London was sign that cracks were opening in Kim Jong Un's regime.
"Recently even North Korea's elite group is collapsing, followed by key figures defecting to foreign countries, showing a sign of serious cracks, with chances of shaking the regime 
further," said Park Geun-hye at a National Security Council meeting.