Multiple Israeli air strikes hit Gaza Strip after Palestinian rocket attack
Comments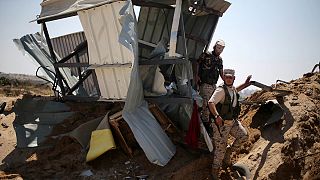 People in the Gaza Strip have been surveying the aftermath of Israeli airstrikes.
Hamas positions have been targeted after a Palestinian rocket attack hit an Israeli border town.
A water tower was damaged during the initial Israeli retaliation.
The Palestinian rocket landed in Sderot on Sunday and, according to police, did not cause any injuries or damage.
Israeli aircraft and tanks reportedly responded by shelling the Gaza town of Beit Hanoun.
It is understood multiple Israeli air strikes hit at least 30 different sites in the Gaza Strip in all, belonging to Hamas and others.
Two people were lightly injured, according to Gaza health officials.
Meanwhile, hundreds of masked Hamas militants have been parading through Rafah in the southern Gaza Strip.
They have been marking the anniversary of the deaths of three senior members – killed during the 2014 war with Israel.