London gets first 24-hour tube service
Comments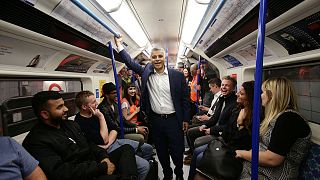 London has taken the first step towards realsing its ambition to become a truly 24-hour city by opening two tube lines for an all-night service, with plans to extend to more lines if it is a success.
The London Mayor was one of the first users, and was keen to underline it is a service that will pay its way and make Londoners' lives easier.
"If you're working hard in Central London as a nurse, a doctor, as a porter, as a security guard, you can get back home quickly. If you need to get to work in the night time you can get there quickly. But also if you've had a great night out at the theatre or at a gig or at a restaurant you don't have to worry about the last tube," said Sadiq Khan.
It certainly seemed to go down well with users, even if some said London still has some way to go to becoming a city that never sleeps.
"I feel like you look at other cities, like Hong Kong, who have a 24 hour service and they're so far ahead in terms of accessibility and so, you genuinely need that kind of service in a city like London, definitely," said passenger Amanda Ford.
You may well still have to mind the gap on the ageing system, but you won't have to mind the clock any more when you are having a good time, which with the range of London entertainments on offer, is a good thing.
Of course, there may be drawbacks, if too many passengers are like this young man...