Firefighters gain ground against Southern California wildfire
Comments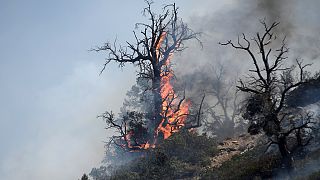 Firefighters in Southern California have been gaining ground against a wildfire in a mountain pass that has forced tens of thousands of people to flee their homes.
Officials say containment lines have been carved around more than a quarter of the fire – up from four percent a day earlier.
But the flames which have been raging in the mountains and desert east of Los Angeles continue to threaten more than 30,000 homes in communities including a ski resort.
Nearly 100 houses have been destroyed in the Cajon Pass northeast of LA. Travel has been returning to normal along the route that is a major highway.
Driven by wind and low humidity, the fire has torched an unknown number of homes and vehicles since it broke out last Tuesday.