Zimbabwe police beat up activist who offers them flowers
Comments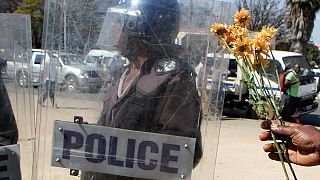 An activist in Zimbabwe offered police flowers as a peace gesture after protests turned violent – only to get the same treatment meted out to others the previous day.
The riot squad moved in quickly, pushing Stan Zvorwadza to the ground and hitting him with sticks.
Yet despite the beating, he vowed to continue his activism.
On Wednesday police violently broke up a protest by around 100 people against a central bank plan to re-introduce local banknotes in a bid to ease the dollar shortage.
Many fear it could lead to rampant money printing and hyperinflation previously experienced in 2008, wiping out people's savings and pensions.