Turkey: blasts blamed on PKK militants leave more than a dozen dead
Comments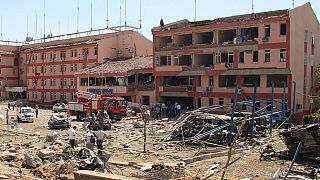 At least 14 people are reported dead – mostly police and soldiers – and around 300 injured after three bomb blasts in Turkey's southeast.
In the biggest explosion, a car bomb tore through a police station in the city of Elazig, as officers arrived for work.
Turkish Prime Minister Binali Yildirim visited some of the injured in hospital. He said there was no doubt the PKK – or Kurdistan Workers Party – was behind the bombings.
There was no immediate claim of responsibility.
Less than four hours after the blast in Elazig, a roadside bomb hit a military vehicle in Bitlis province. And in Van province, a car bomb exploded – also near a police station.
Turkey's southeast has been hit by violence since a ceasefire with the PKK fell apart in July last year.
Militants have carried out dozens of attacks in the largely Kurdish region, in their fight for greater autonomy for Turkey's Kurds.