Three facing court over Corsica beach scuffles
Comments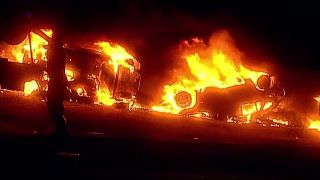 Three people – described as of 'North African' origin – are facing court after scuffles in Corsica, which left five people injured.
Police were called in when trouble broke out on Sisco beach on Saturday night.
Officials have denied media reports that it was sparked by a tourist taking pictures of Muslim women bathing in burkinis.
"At the heart of these incidents was a North African family who wanted to stake a claim to part of the beach, to make it their private property, so to speak," said the Bastia prosecutor.
"There are several elements in that direction, primarily that they (the family) put up a 'no entry' sign. It was more or less symbolic, obviously people could still go there but, it was meant to keep people out."
There have been calls for calm in the Corsican seaside resort.
Sisco joined other towns in banning the body-covering burkini swimsuit worn by some Muslim women after the beach scuffles.
The local mayor said that he was not targeting Muslims – but wanted to get rid of Islamist fundamentalists on the Mediterranean island.