South Sudan opposition leader Riek Machar in exile in DRC
Comments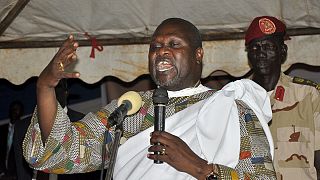 The United Nations says it intervened on humanitarian grounds to help South Sudan's former vice president and opposition leader in the neighbouring Democratic Republic of Congo.
Fierce fighting between his forces and government troops forced Riek Machar out of the South Sudanese capital Juba last month.
The UN's peacekeeping mission cooperated with the DRC to move him out of a border region, according to UN spokesman Farhan Haq.
The South Sudan opposition said on Wednesday that he had left to a "safe country within the region".
Machar led a rebellion against his rival President Salva Kiir before a peace deal installed him as vice president last year.