Rio Olympics: Graffiti mural in honour of Team Refugee
Comments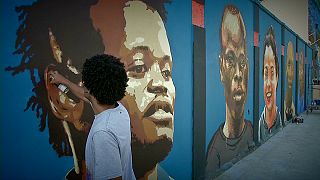 The first ever Olympic refugee team definitely made its mark on the Rio Games.
These are the faces of hope

United Nations' Refugee Agency
The 10-member team has been a big crowd pleaser in Rio since they marched into the opening ceremony to thunderous applause under the Olympic flag.
In honour of their remarkable journey the portraits of all 10 members have been painted in a graffiti mural along Rio's brand new Olympic boulevard.
According to the project organisers the idea was to leave a ''lasting legacy here in Rio that would compel people to think about the plight of refugees around the world".
BTW, did you see this mural in Rio's centre dedicated to the refugee athletes? There is Rose. #TeamRefugees#Rio2016pic.twitter.com/oNqWgXJoa1

— TeamRefugees (@TeamRefugees) August 17, 2016
One of the Brazilian artists who created the mural, Rodrigo Sini said: "For me, they're already gold medal champions."
"There is no medal that justifies the pleasure or the weight each of them carries, for the story each of them has, for the determination and courage they all had when they had to abandon their home countries to restart their lives somewhere else."
The other artist, Cety Soledade, added: "Since they still don`t have famous faces yet, people try to associate [the painted images] with some artist or movement leader. When we tell them they are the refugees, people congratulate us and are happy. They say this is the best choice for a mural in Rio de Janeiro during this event."
Faces of hope
Juliana Luna, who works with the United Nations' Refugee Agency and the New York-based Purpose group, which helped bring the mural to fruition, said the artwork was meant to compel people to think about the plight of some 65 million displaced people around the world.
"I hope they feel inspired. I hope they ask questions. 'Who are these people? Who are these faces?' These are the faces of hope. These are the faces of, you know, struggle," said Luna.
"These are the faces of overcoming that struggle."
The refugees team
The team of six men and four women includes athletes competing in swimming, judo and athletics. Five are from South Sudan, two from Syria, two from the Democratic Republic of Congo and one from Ethiopia.
From Syrian swimmer Yusra Mardini to South Sudanese runner Rose Nathike Lokonyen, the athletes have been big crowd pleasers in Rio, especially as their stories of survival have spread.
Refugees competing at #Rio2016 honoured with gigantic mural on Rio's Olympic Boulevard https://t.co/88Fdc94vdVpic.twitter.com/hcOx2OYqK1

—

AJE

Sport (@AJE_Sport) August 17, 2016