Russia's only athlete cleared to compete in Olympics
Comments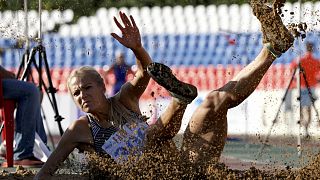 Ban overturned for Russia's sole athlete

IAAF

suspension came three days before high-jump event

What is happening?
Russian long jumper Darya Klishina will compete at the Rio Olympics after her ban from the Games was struck down by sport's highest court on the eve of the event.
The Court of Arbitration for Sport (CAS) has upheld Klishina's appeal against the ban.
Darya Klishina can compete at Rio 2016, CAS rules https://t.co/iuNfujbbcFpic.twitter.com/m4eltZYc2a

— Athletics24 (@Athletics24org) August 15, 2016
When was she banned?
Russian track and field suffered a final humiliation in Rio on Saturday when the International Association of Athletics Federations (IAAF) suspended Klishina, three days before she was due to compete.
#BREAKING Olympics: Last Russian athlete at Rio Games Klishina excluded – CAS

—

AFP

news agency (@AFP) August 13, 2016
She was the nation's only athlete to have survived a blanket doping ban.
She had been given an exemption to compete in Rio as a neutral athlete after Russia's athletics squad was banned from the Games in the wake of revelations of state-backed doping.
Why was she given an exemption?
The IAAF decided the 25-year-old, who is based in the US, was not involved in the doping programme.
It was also decided she had been subject to sufficient drug tests outside Russia.
So why was the exemption overturned?
MORE: Court rules that Russian long jumper Darya Klishina is eligible to compete in Rio. https://t.co/SI2Awr1Psypic.twitter.com/SYN2NZmCYH

— AP Sports (@AP_Sports) August 15, 2016
A source told the Reuters news agency that new evidence had emerged from a World Anti-Doping Agency (WADA) investigation, conducted by lawyer Richard Mclaren.
This prompted the IAAF to withdraw her Klishina's exemption.
When does qualifying begin for the women's long jump?
Tuesday.
What they are saying
"The parties were informed that the application was upheld and that the athlete remained eligible to compete in the Olympic Games in Rio," – CAS statement.