Russia and Germany hold talks on Crimea tensions
Comments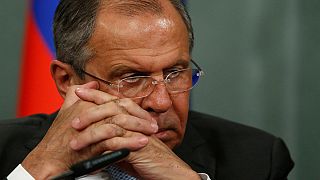 Amid rising tensions over Crimea, Germany and Russia's top diplomats have held talks in the Urals city of Yekaterinburg.
Calling for calm, Germany's Frank-Walter Steinmeier insisted the 2015 Minsk deal had to remain the focus of the Ukraine peace process.
Insisting it would fulfill its side of the bargain, Russia's Sergei Lavrov said Kyiv had to also honour its obligations.
Russia recently bolstered its military forces in Crimea, which it annexed from Ukraine in 2014.
Last week, President Vladimir Putin threatened a 'very serious' response after Moscow accused Kyiv of sending agents to kill two Russian servicemen in Crimea, something the Ukrainian government denied.
In response, Ukraine put its troops on high alert, reinforcing its de facto border with Crimea as well as its frontline with pro-Russian separatists in control of Donetsk and Luhansk which has also seen a spike in violence.