Heavy security for Lourdes pilgrimage
Comments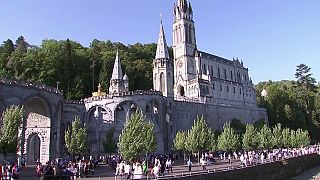 Tight security was in place in the French town of Lourdes on Monday as thousands of worshippers flocked for the annual Catholic pilgrimage.
Bag checks were in operation as armed police and troops patrolled the holy site.
A spate of recent terror attacks in France and across Europe has heightened security fears of further strikes, though some among the faithful seemed to show showed little signs of concern.
"I don't really think about it, it is a good thing that they are there but it doesn't make any difference to me. I don't feel any less safe than I used to before," said one woman.
The murder of a Catholic priest by extremists last month shook France to its core but there were also calls for forgiveness.
''I think those who are the hardest to love, I mean the perpetrators of these crimes, they are in fact the ones who need our love the most. We need to work for peace. We need to stay calm,'' said one man.
The Catholic church's most senior official presiding over this year's pilgrimage evoked the Virgin Mary as a source of inspiration to all religious faiths.
''I look to those Muslims who love the Virgin Mary. Lots of times I've seen Muslim families carry their new born's and put them into the hands of Mary, put them under her kindness and her maternal love,'' said Cardinal Philippe Barbarin.
A holy site since the mid-19th century when a village girl claimed to have visions of the Virgin Mary, Lourdes draws thousands of pilgrims each year, many of whom hope to be cured by its famous spring water.