One victim dead after Swiss train attack
Comments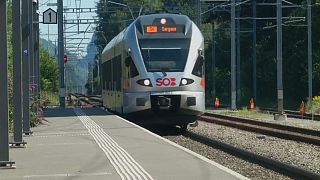 One woman has died and two remain in a serious condition a day after an attack on a Swiss train.
A 34-year-old woman and the 27-year-old suspect died from their injuries, according to police.
Five people were wounded when a man attacked passengers with a knife and set fire to the carriage on the train nearing Salez station in northeast Switzerland.
"At the moment we are not treating this as a terrorist attack, or as a politically-motivated or xenophobic crime," explained St Gallen Police spokesman Hanspeter Kruesi. "We have no indications of that. Neither do we have any indications that it was a crime of passion. We have absolutely no information on what the motive might have been. As far as we currently know, he acted alone."
Police are yet to release the suspect's name, but have identified the man as a Swiss citizen who lived in a neighbouring canton.
The police said that the attack did not appear to be directed at a single person and they added, it was unclear if the suspect knew any of the victims.