Nigeria: Some Chibok girls killed in air strikes, says 'Boko Haram video'
Comments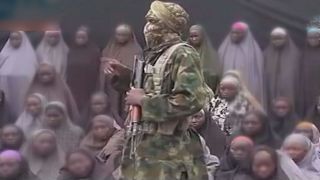 Some of the Chibok girls abducted in Nigeria have been killed in air strikes – according to a new video that's said to be from the militant group Boko Haram.
The footage – posted on social media – also shows an alleged victim pleading for authorities to release detained militants, so that the girls can be freed.
A fighter in the video warns that if the government takes on Boko Haram with firepower, the girls will be killed.
Forty of the group are said to have been "married" to fighters.
#BokoHaram releases video claiming to show 'kidnapped #Chibok girls' alive https://t.co/nS43UaZYJo via IBTimesUK</a></p>&mdash; Ludovica Iaccino (LudovicaIaccino) 14 August 2016
It was in April 2014 that Boko Haram seized 276 girls from their school in Chibok – part of an insurgency to set up an Islamic state in northern Nigeria that has killed some 15,000 people and displaced more than two million.
Dozens of the girls escaped in the initial melee in 2014 but more than 200 remain unaccounted for.
Parents accused former president Goodluck Jonathan, Nigeria's leader at the time of the mass kidnapping, of not doing enough to track down the girls and bring them home.
In May this year, it was reported that one of the girls had been rescued. Soldiers working together with a civilian vigilante group were said to have rescued her and her four-month-old baby near Damboa in the remote northeast.
Boko Haram has suffered a dramatic decline in fortunes from 18 months ago when it controlled an area the size of Belgium and had Nigeria's military on the back foot.
Since early 2015 it has suffered numerous defeats at the hands of the Nigerian, Cameroonian and Chadian military forces – either acting individually or as part of a coordinated regional force.