Kenya and UN work to change a refugee camp into a settlement
Comments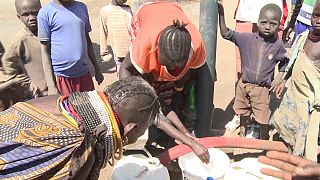 Refugees who have fled the fighting in South Sudan are being given a chance to become self sufficient.
More than 200,000 – from Ethiopia and Somalia as well – are now living in Kenya where the government and the United Nations have moved some to a camp where they can grow their own food in vegetable plots, to trade or to support their families.
They will come from the nearby overcrowded Kakuma refugee camp.
Refugee Katerina Baka said: "We don't want to sit idle like people in the other camp at Kakuma. I may be old but I'm still strong and can work for myself. We can fend for ourselves and support our families."
#Kalobeyeihttps://t.co/EnbTS3dve2

— Natalia Herberg (@NataliaHerberg) June 14, 2016
At the new camp – Kalobeyei – the idea is to allow refugees to create as much food as possible instead of relying on external sources.
William Erot, a senior community officer at Kalobeyei camp, explained: "It's an initiative that we can pilot, so that we can be able to have plenty of food that the refugees themselves can be able to produce and support their livelihood."
The long term hope is that Kalobeyei – which covers more than 15 square kilometres – can morph from being a camp to a settlement, improving life for the refugees and locals.