Chinese swimmer, Bulgarian athlete fail first doping tests at Rio Olympics
Comments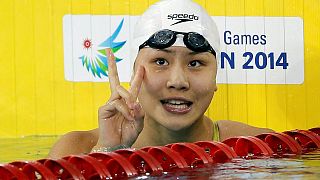 Chinese swimmer Chen Xinyi and Bulgarian steeplechase athlete Silivia Danekova became the first athletes to fail drug tests at the Rio Olympics on Friday, as further doping scandals continued to mar the sports competition at the Games.
Doping controversies overshadowed the build-up to South America's first Olympics, and far from dying down after the opening ceremony, instead dominated headlines as U.S., Australian and French swimmers labelled their Russian and Chinese counterparts drug cheats.
Chen, 18, who finished fourth in the women's 100 metres butterfly five days ago, has reportedly tested positive to banned substance Hydrochlorothiazide, Chinese state media cited the country's swimming federation (CSA) as saying.
"If the assertion is true, the CSA will earnestly implement anti-doping regulations and safeguard legal interests according to law," the Xinhua news agency cited an unnamed CSA official as saying in a statement.
"The Chinese Swimming Association resolutely opposes the use of banned substances, will actively cooperate with the investigation by the Court of Arbitration for Sport, and respect its final ruling," the official said.
Hydrochlorothiazide, known as a masking agent, is a diuretic substance which can be used for weight loss and cover up the presence of other prohibited drugs by diluting the concentration of urine in doping tests.
Chen has asked for an analysis of her 'B' sample. A CSA spokesperson was unavailable for comment on Friday morning, and further details of the alleged positive test were not immediately known.
The presence of former dopers have plagued this summer's swimming events after Australian Olympic champion Mack Horton unrepentantly called China's Sun Yang "drugs cheat", while France's Camille Lacourt also claimed the Chinese swimmer "pisses purple".
Sun was revealed two years ago to have secretly served a three month ban for the banned stimulant Trimetazidine, a substance which normally carries of suspension of one-year. He said at the time the drug had been prescribed for heart palpitations.
Separately, the Bulgarian Olympic Committee confirmed that both Danekova's 'A' and 'B' urine test samples had returned adverse analytical findings and that she had been suspended from competition.
Danekova, 33, due to compete in the 3,000 metres steeplechase heats on Saturday, was tested on her arrival at the Rio Olympic athletes' village on July 30 and tested positive for the red blood cell production-boosting erythropoiesis-stimulating agent (ESA).
"It is inadmissible that the image of Bulgaria is destroyed in this way and a stain placed on the entire Bulgarian sport," the country's sports ministry said in a statement.
The Bulgarian athlete has since announced her retirement from international athletics.