Ukraine puts border troops on full alert
Comments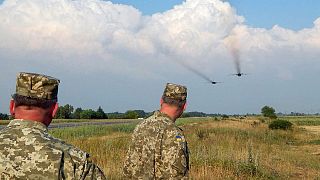 Ukrainian President Petro Poroshenko has instructed all military units near Crimea and in the eastern Donbass region to be at the highest level of combat readiness in the wake of Russia's allegations.
All #Ukraine military units near Crimea, Donbass ordered by President to "highest level of combat readiness." https://t.co/5utsbSaaew

— Steve Herman (@W7VOA) August 11, 2016
It comes as tension continues to rise between Russia and Ukraine.
On Wednesday, Moscow claimed it had thwarted two attempts by armed Ukrainians to enter Crimea.
Russia's FSB security service says there have been at least two armed clashes recently on the border between Crimea and Ukraine.
Kyiv has dismissed Russia's claim of attempted armed incursion into the peninsula as "false information".
Latest developments on the Russian side
Senior Russian government ministers met with members of the security services in Moscow on Thursday morning.

The Security Council meeting included:
President Vladimir Putin
Prime Minister Dmitri Medvedev
Foreign Minister Sergueï Lavrov
Defence Minister Sergueï Choïgou
Interior Minister Vladimir Kolokoltsev
Alexandre Bortnikov (FSB)
Mikhaïl Fradkov (Foreign Intelligence or SVR)
"Additional measures to secure the security of citizens and infrastructure in Crimea were discussed," the Kremlin said in a statement.
The Russian navy plans to hold exercises in the Black Sea to practice repelling underwater attacks by saboteurs, according to Russian news agencies.
Citing the Defence Ministry, they say the scenario would be based on repelling an underwater marine attack by saboteurs.
Latest developments on the Ukrainian side
A spokesman for Ukraine's guards on the border with Crimea says Russia has amassed more troops in recent days equipped with more modern equipment.
"We can unequivocally say that Russian troops who were there since March are now being replaced with others," said Oleh Slobodyan.
"These troops are coming with more modern equipment and there are air assault units. In recent days, we see a strengthening of the units that are at the border. Their numbers have increased."
The spokesman for the General Staff says Ukraine has the military resources to defend itself.
Vladislav Seleznyov says the situation around Crimea is being monitored.
Latest diplomatic developments
The United States ambassador to Ukraine says there has been no evidence so far to corroborate Russia's claims of a Ukrainian incursion into Crimea.
Geoffrey Pyatt says US sanctions in relation to Moscow's annexation of Crimea will remain in place until the territory is returned to Ukraine.
"Russia has a record of frequently levying false accusations at Ukraine to deflect attention from its own illegal actions," Pyatt wrote on Twitter.
"The US government has seen nothing so far that corroborates Russian allegations of a "Crimea incursion" and Ukraine has strongly refuted them."