Crimea: the disputed region fueling tensions between Moscow and Kyiv
Comments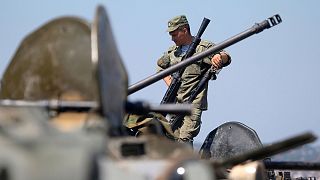 A referendum held in March 2014 was Moscow's justification for annexing Crimea in the aftermath of the ousting of Ukraine's pro-Russian President Viktor Yanukovych.
At the time almost 60 percent of the two million inhabitants identified themselves as Russians and 96 percent of those who voted said they wanted the peninsula to cease being an autonomous region of Ukraine and instead be part of Russia.
Crimea's strategic importance is that it extends into the Black Sea. From there Russia's navy has quick access to the eastern Mediterranean, the Balkans and Middle East from its base in the port city of Sevastopol on the southern shore.
Until 1954 Crimea was part of Soviet Russia, when the leadership under Ukrainian born Nikita Krushchev transferred it to the Ukrainian part of the Soviet Union by decree.
In 1992 following the collapse of the communist regime Crimea declared independence but decided to remain part of Ukraine, though with its own parliament and government based in Simferopol.
Moscow continued to base its Black Sea Fleet at Sevastopol with as many as 11,000 sailors and 60 ships.
And in 2010, after years of tortuous negotiations, newly elected pro-Moscow president Viktor Yanukovych agreed to extend the lease on the port until 2042 in exchange for cheaper Russian gas.
When Yanukovych was ousted by the Maidan revolution in February 2014 and replaced with a pro-Western government it sparked a political crisis in Crimea and soon pro-Russian separatists were on the streets.
Heavily armed troops with no identifying insignia on their uniforms seized government buildings, the main airport, and all means of communication.
Later it was admitted they were Russian, but at the time Moscow said only that it was putting its troops on alert to "protect their citizens" in the region.
On March 11 2014, there was an overt Russian military intervention and Crimea declared independence to be swiftly annexed by Russia. The accompanying referendum was denounced by Kyiv and the West as illegal.
Crimea's annexation was followed by bloody fighting in the east of the country between the Ukrainian army and separatists supported by Russia. More than 9,500 people are known to have been killed.
The European Union and the United States responded to Moscow's moves with economic sanctions against Russia and Crimea.
Long before the latest flare up – in January Ukraine's President Petro Poroshenko said securing Crimea's return from Russian control was a priority along with regaining sovereignty over separatist-held areas in the country's east this year.
With Ukraine's military near Crimea and in eastern Ukraine on high alert, both sides accuse the other of escalating tensions.
Tensions are rising on the Crimea-Ukraine border. Ukraine's army has been put on high alert https://t.co/4XNCBklbOipic.twitter.com/eVvuQCdRcm

— Financial Times (@FT) August 11, 2016