Germany's interior minister proposes new anti-terror laws
Comments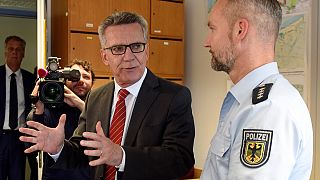 Germany's interior minister has unveiled new anti-terror measures aimed at beefing up security following a wave of recent attacks.
They include stripping dual nationals who fight for extremists groups abroad of their German citizenship and greater use of video surveillance, notably facial recognition systems.
Thomas de Maizière also said a centre to fight cyber crime and the dark net would also be established.
In addition, De Maizière said more than 4,600 posts in Germany's security services would also be created with an extra two billion euros in funding until 2020.
But Germany's interior minister backed off from plans to ban the Burka after he admitted such a measure would be difficult to implement.