Canadian man killed in police raid was ISIL supporter and planned imminent attack
Comments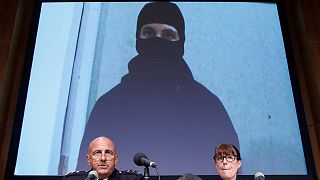 A man killed during a police raid at his home in the Canadian province of Ontario was an ISIL supporter and was in the final stages of launching an attack with a homemade bomb.
That is according to police, who say they had received credible information – including a so-called "martyrdom video" – from US authorities, indicating that Aaron Driver was planning to strike.
"Based on this information, the attack was supposed to take place within the following 72 hours and was likely to target an urban centre – either during morning or afternoon rush hour," said Mike Cabana from the Royal Canadian Mounted Police (RCMP).
Driver died after detonating an explosive device in the backseat of a taxi as police closed in on him.
The RCMP had said on Wednesday that he was fatally shot by police, but at Thursday's news conference the police could not say if he died as a result of the detonation or as a result of being shot by officers.
Driver was arrested last year for openly supporting ISIL on social media.
He was not charged with a crime, but a court order was imposed – requiring him to stay away from computers and not to have contact with militants.