Amid boos and jeers, Russia athletes reject doping stigma
Comments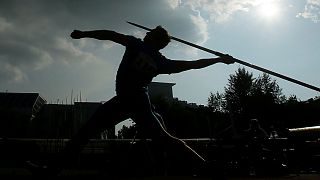 Russia's sportsmen and women are happy that many of them have been allowed to compete in the Rio Olympics, but have spoken out against the reaction following accusations of "state-sponsored doping".
There have been boos and jeers from some spectators, both at the Opening Ceremony and towards individual Russian competitors.
Fairly or not, the villains in these Olympics have been established: the Russians. With AdamKilgoreWP</a>.<a href="https://t.co/jzJbw1AfgU">https://t.co/jzJbw1AfgU</a></p>&mdash; Barry Svrluga (barrysvrluga) August 9, 2016
More than 100 athletes were banned because of their links to alleged state-sanctioned doping, while 271 were cleared to take part.
There is resentment at the crowd hostility. Retired Olympic gymnastic gold medalist Svetlana Khorkina said: "I think this is absolutely reprehensible. It destroys the spirit that's existed for over 100 years at the Olympics."
Swimmer Yulia Efimova, who is competing despite having used anabolic steroids and the banned substance meldonium, was one of those most roundly booed in Rio.
The fans remain loyal and stick with the party line, that this is political.
Supporter Svetlana Krilova complained: "It's bad when you mix sports and politics together. Athletes have worked so hard and sacrificed so much, how can you punish them so much? Then all other countries should also be punished. This is bad."
The International Olympic Committee (IOC) made the controversial decision not to go with a blanket ban of the Russians, instead letting the individual sports federations decide.
The International Association of Athletics Federations blocked 67 Russians in track and field events.
On Thursday, the IAAF's president Sebastian Coe insisted it was Russia that had been banned, not the athletes and said now it is time to look to the future: "Russia has let down their athletes. We have not banned athletes, this was a cataclysmic failure to oversee and protect those athletes and my and my council's object now, [its] focus, is for the reinstatement of the Russian federation and [to get] their athletes back into international competition."
Which will mean working with people like pole vault champion Yelena Isinbayeva, who was banned from Rio despite never having failed a drugs test. She is running for president of the Russian athletics federation to lead the fight to get them back on track.
Double Olympic pole vault champion Yelena Isinbayeva announces she will run for president of the Russian Athletics… https://t.co/3vfNH02F4v

— JB News (@JBNEWS) August 11, 2016
Coe said that in his discussions with athletes over the last week there was a real focus on the event and almost no talk about Russia's ban or doping.
In the wider world, however, that cloud remains hovering above the sport, something that Coe said he recognised and understood.
"I genuinely hope that the people watching our sport are watching with hope, excitement and belief," he said.
"The last year has sorely tested all of us and all of our fans out there and our responsibility is to shape the future.
"So I genuinely hope that they feel they are watching our competitors doing it cleanly, and the vast majority are."