Eurostar staff to strike in row over work-life balance
Comments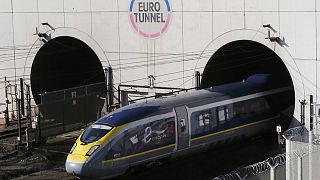 Staff at Eurostar will strike for seven days over two weekends this month in a long-running dispute over work life balance, the UK's RMT union has said.
The walkout, starting this Friday from just after midnight until Monday, and then for three days the following weekend, involves about 80 train managers.
The row centres on unsocial working hours and duty rosters.
The rail union says Eurostar has failed to honour an pre-existing agreement from 2008 which sought to ensure the train managers could expect a good work-life balance.
Eurostar, which is majority-owned by the French state rail operator SNCF, said efforts to resolve the dispute were ongoing.
The company has insisted all passengers with reservations will be able to travel during the affected times.