A.Velios : "I and my death, the right to euthanasia"
Comments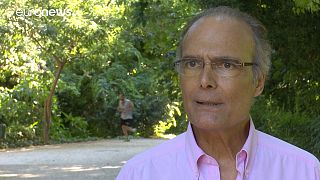 "Death is like a wall. Either you are going to fall into it with your head full of pain and panic or you will try to manage the reality rationally. I chose the second path."
With these words, Alexandros Velios, a Greek journalist and writer, explains to Euronews his decision to go ahead with euthanasia after a losing battle with cancer lasting around a year.
He believes he has less than 100 days to live. "My physical forces are no longer the same as they used to be. I feel very tired and a downhill spiral has begun."
In Greece euthanasia is a criminal offence. So he will travel to Switzerland to die, since it is one of the countries that allow foreigners to end their life according to their choice.
When he learned that he was ill and moreover suffering from a serious malignant tumour, deciding to follow the path of euthanasia was redemptive.
"I would be inconsolable if I felt that I was trapped in a body that would betray me. I would be in deep despair. I escaped from my panic," he said.
Euthanasia laws in Greece
In Greece, euthanasia is a criminal offence and, according to Greek law, is considered to be homicide.
Therefore, Velios has set his mind on changing this "mouldy" legal framework, using his personal story to try and achieve this.
"Most European countries are institutionally and culturally ages behind on the euthanasia issue," he said.
Why? "One explanation is the issue of religion, as Christianity puts forward great resistance. All the authorities refuse to accept that people have the right to choose their own death," said Velios.
"Because one someone has won the right to choose their death, they will then demand more rights in life and the way they live."
He continued: "The right to euthanasia, the right of everyone to choose the death he wants I think is the most fundamental individual right. I think everyone has a right to experience a dignified death. Not forced to become a wired-up piece of meat, unrecognisable to their own family, in a hospital bed. "
Reactions of family and friends
What was the reaction of Velios' family? What did his friends tell him?
"My son is 20-years-old and he faced it very calmly. My daughter is six-and-a-half years-old and will have to learn about it later, as she has not understood anything for the moment," he explained.
Velios said none of his relatives or friends tried to influence him or make him change his decision to proceed with euthanasia.
"No one had any objections or resistance. They agree and support my choice to go ahead with euthanasia," he said.
For him, it is a consolation that he leaves through his work a small inheritance for future generations.
He wrote a book entitled "Me and my death, the right to euthanasia." He says it will allow his son to grow up speaking with him mentally and his daughter to get know the father that she lost too early.
For him, writing the book was a kind of "active psychotherapy."
He wrote about his experiences and a review of his life but mainly argues for the human right to choose the way to end life, when there is no more hope of living.
"I prefer the serenity of certainty to prepare mentally and morally not to face the death but the absence of life," he said.
The day after his death?
For the day after his death, Velios says that he would prefer to be cremated but in fact has chosen to buried.
"I am not a religious person. So I would prefer to cremated but I want to buried so my daughter can visit me when she wants."
He believes that his decision to go ahead with euthanasia will be a step forward for Greece and even for other countries, at least in Europe, to give people the right to choose euthanasia when there is no more hope of life.
Facts about euthanasia around world
Euthanasia is an intervention undertaken with the intention of ending a life to relieve suffering. For example, a lethal injection administered by a doctor.
Assisted suicide is any act that intentionally helps another person to kill themselves, for example by providing them with the means to do so, most commonly by prescribing a lethal medication.
Assisted dying is usually used in the US and the UK to mean assisted suicide for the terminally ill only, as for example in the Assisted Dying Bills recently debated in the UK
As of June 2016, human euthanasia is legal in the Netherlands, Belgium, Ireland, Colombia and Luxembourg.
Assisted suicide is legal in Switzerland, Germany, Japan, Albania, Canada, and in the US states of Washington, Oregon, Vermont, Montana, and California.
The Netherlands, Belgium and Luxembourg permit euthanasia and assisted suicide.
Switzerland permits assisted suicide if the person is assisting acts unselfishly.
Colombia permits euthanasia.
California has just joined the US states of Oregon, Washington, Vermont and Montana in permitting assisted dying.