Speak out against doping - Phelps
Comments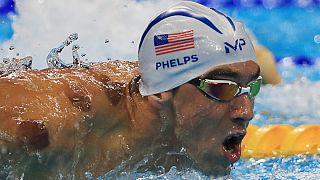 Phelps urges athletes to speak out against doping
France's Lacourt also hits out
US swimmer Michael Phelps has backed his compatriot Lilly King's attitude towards her fellow Olympic competitor, Russian Yulia Efimova, who has twice tested positive for banned substances.
Phelps is full of admiration for his 19-year-old team mate.
"We have some tough young kids in our team and I think that is something special," he told reporters in Rio.
"It is kind of sad that today, in sports in general, not just in swimming, there are people who are testing positive and are allowed back in the sport, and multiple times."
Michael Phelps receives cupping therapy, a Chinese suction-based massage, to relax his muscles #Rio2016#AmazingRiopic.twitter.com/5COTPo9ogQ

— China Xinhua News (@XHNews) August 9, 2016
French reaction
France's Camille Lacourt, a three-times backstroke world champion, added his voice to the debate after taking fifth place in the 100m backstroke final.
He urged FINA, the international federation, to act tough on dopers.
French swimmer Lacourt says China's Sun 'p**ses purple' amid doping row: French swimmer Camille Lacou… https://t.co/CyrJOMrF0a#SteveC

— French Life (@SeeYouInFrance) August 9, 2016
"I am very sad to see how my sport is evolving. It's like I am seeing athletics with two or three dopers in every final," he was quoted as saying by French media.
"I hope FINA will react quickly and stop this massacre because it is becoming sad. They have nothing to do in sport, I am disgusted to see athletes who have cheated on the podium."
Lacourt's comments came after Sun Yang won the 200 metres freestyle on Monday.
The Chinese swimmer tested positive in 2014.
#Fingerwag
King, who beat the twice-banned Russian in the 100 metres breaststroke final on Monday, did not hide her displeasure at Efimova.
US swimmer Lilly King backed up her fighting talk by beating Russian Yulia Efimova for gold https://t.co/FJ1pfsbnvppic.twitter.com/dWkUkK83mZ

—

CNN

(@CNN) August 9, 2016
She wagged her finger at the Russian before calling her a drug cheat.
The pair exchanged angry glances before King told reporters she was not happy with the Russian being allowed to compete.
Yulia Efimova and Lilly King next to each other on the podium.

Just a litttttle awkward. pic.twitter.com/KT8OX0xIdJ

—

NBC

Olympics (@NBCOlympics) August 9, 2016
Efimova appeal
Efimova was only allowed to compete at the Games after winning an appeal against a ban for previous doping.
She has been booed every time she has appeared poolside in Rio.