Police in Magdeburg, Germany searching for knife attacker
Comments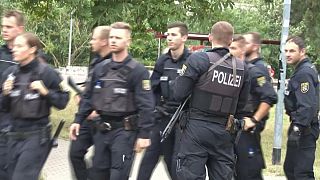 Police in Magdeburg, Germany are looking for a knife-attacker went on a rampage, attacking several people.
Police officers initially had reports of a man who tried to steal a smartphone from a 14-year-old.
When that failed, he stabbed an elderly woman in the back. She was admitted to hospital with knife wounds. Her injuries are not life-threatening.
The suspect then tried to steal a bicycle from a 63-year-old man in an apparent attempt to flee.
He then kicked a teenage woman in the stomach and pushed her to the ground. An older woman was stabbed in the hand.
The suspect is described as a male of slim build between 25 and 35 years of age, 183cm, dressed in blue jeans, a green jacket and wearing a black baseball cap.