Pakistan mourns Quetta hospital bombing
Comments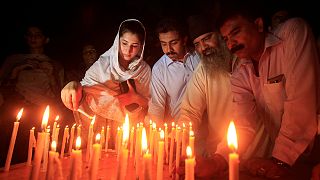 The head of Pakistan's army has ordered extra security operations across the country following Monday's deadly suicide bomb attack at a hospital in Quetta.
At least seventy people were killed in the blast and more than 100 others injured.
Both ISIL and a faction of the Pakistan Taliban have claimed responsibility for the bombing which appeared to target lawyers who had gathered at the hospital to mourn the killing of a prominent colleague.
Analysts believe the attack is aimed at further destabilising Balochistan province, Pakistan's poorest.
"It's very clearly targeted, focused on destabilizing Pakistan, destabilizing economic activity, and destabilizing political life in the province,"
Imtiaz Gul, Director of the Center for Research and Security Studies in Pakistan.
In addition to visiting victims in hospital, Prime Minister Nawaz Sharif and the head of the army held talks with security officials in in Quetta.
The city has seen a spate of killings, including lawyers, in recent weeks putting the government come under increasing pressure to improve security and crackdown on extremist violence.
Monday's attack was the deadliest in Pakistan since an Easter Day bombing ripped through a Lahore park, killing at least 72 people.
Lawyers in Quetta and across Pakistan on Tuesday were boycotting court proceedings to mourn the victims and protest against the attack.